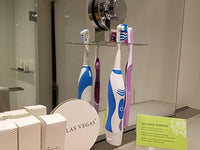 THE WORLD'S STRONGEST SUCTION CUP TOOTHBRUSH HOLDER
QUALITY IS OUR PRIORITY

The Toothbrush Holder is crafted with Top-Grade Stainless Steel, while the suction cup is made of ABS Chrome & Natural Rubber. Unlike cheaper alternatives, these waterproof & rustproof materials will STICK through time! We are confident in the Superior Strength of this product, and offer all our customers a 100% Money-Back Guarantee!
SURFACE REQUIREMENTS
We recommend installing this product any other smooth and non-porous surfaces, such as: Glass, Mirrors, Porcelain tiles, Acrylic/Plastic shower inserts, Stainless steel, Quartz, Laminate, etc...